Digital forensic investigation at NFIR
Does my organization need a Digital Forensic Survey?
There are several conceivable scenarios in which digital forensics can help. Has your employee leaked business-sensitive information? Do you suspect theft of intellectual property? Would you like to know whether there is a data breach requiring notification? Do you think your company's been hacked? Is your integrity at stake? Who's the sender of the blackmail e-mail? These are all questions that NFIR can answer with its digital forensic investigation. Society is digitized to the point that digital evidence can be found of many acts or actions. For example, almost everyone carries a smartphone in their pocket, which tracks and stores more data than you might think. Computers (both work and personal systems) also often contain treasures of information. The digital forensic investigators at NFIR can conduct investigations on all types of data carriers such as computers, phones, USB sticks and external hard drives, as well as mailboxes, digital documents and files. How successful a digital forensic investigation will be depends on the traces still present, as well as the logging on the systems.
See below for all forms of Digital Forensic Research we perform
Every digital forensic investigation starts with securing digital traces. This is very meticulous work and a prerequisite for forensic investigation. NFIR therefore only works with internationally approved hardware and software. Technical specialists secure traces on digital data carriers (such as hard discs, flash memory and USB sticks) and make a forensic copy, which will be examined. The study always concludes with a report. All of these phases are clearly depicted in the roadmap below.
NFIR has POB permit 1672 and is supervised by the Department of Justice and Security.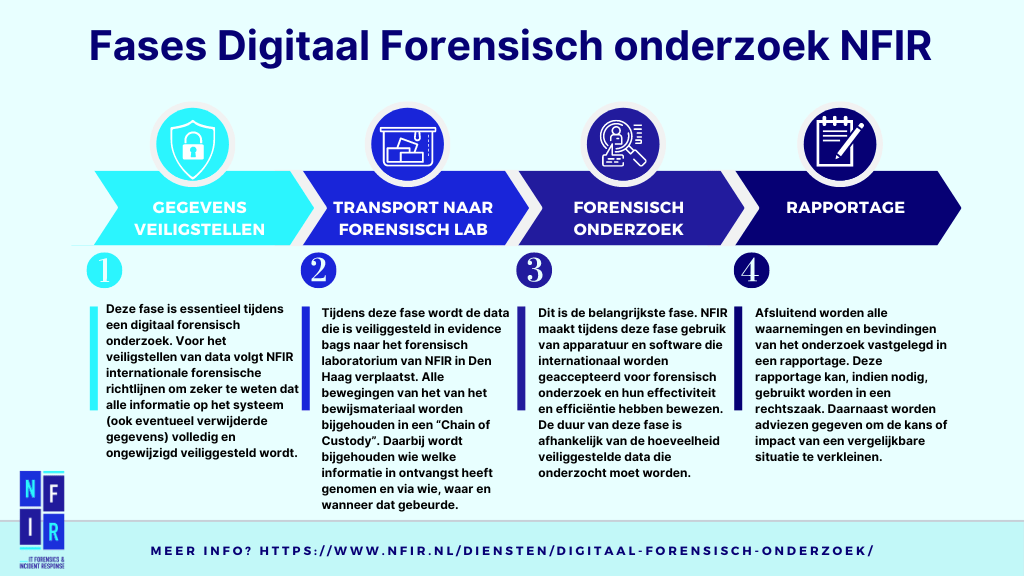 Multidisciplinary forensic research
In digital investigations, traces and data are collected in a forensic way, which makes it possible to reconstruct what happened. The digital traces will be forensically secured and then analysed. The findings of the forensic investigation are incorporated in a clear report.
You can use our report if you want to go to court. If you want to report to another official body (such as the Data Protection Authority), you can also use this report. NFIR cooperates with tactical investigators, privacy lawyers, bailiffs and agencies such as the Police, the NCSC, the Public Prosecution Service and various international services.
Digitaal forensisch onderzoek laten uitvoeren?
Gebruik onze rapportage in de rechtbank of wanneer u een melding bij een andere
officiële instantie (zoals de Autoriteit Persoonsgegevens) wilt doen.